Challenge Coin Meaning: What is the Purpose Behind Them?
---
Challenge coins are a unique medallion given to someone to show that they are part of a group. That's not the only thing behind the challenge coin meaning.
Ever wondered what a challenge coin is? Now you're about to find out.
A challenge coin is custom-made to represent an organization or team. The people within this special group are gifted challenge coins as proof of membership and as a commemoration of respect and honor.
The appearance and design of challenge coins vary depending on the teams and organizations ordering the coins and how they plan to be used. However, most challenge coins feature a team logo or emblem.
Do you want to learn more about challenge coins? Then keep reading to dig deeper into the challenge coin meaning. We're going to break down everything there is to discover about challenge coins from their purposes to the different types available. Once we're done, you'll know exactly how to spot a challenge coin.
What Is A Challenge Coin and Where Did it Originate From?
We've briefly brushed upon what a challenge coin is, but let's learn a bit more.
Traditionally, military commanders present pocket-sized medallions to service members. This works as a gift of honor and camaraderie. These are challenge coins.
A commander's unique coin is often made from brass or zinc with plating options such as copper, gold, or nickel. The commander coin usually carries mottos and symbols symbolizing the unit or office.
During service, military members use the coins to prove their loyalty and allegiance when challenged. High-ranking officers and military retirees often display a selection of coins in their offices. Sometimes they sit alongside uniform patches and ribbons to show their pride.
In the military, challenge coins symbolize morale and commitment. However, while this is how their origin came about, now many organizations and teams similarly use challenge coins.
What Does a Challenge Coin Look Like?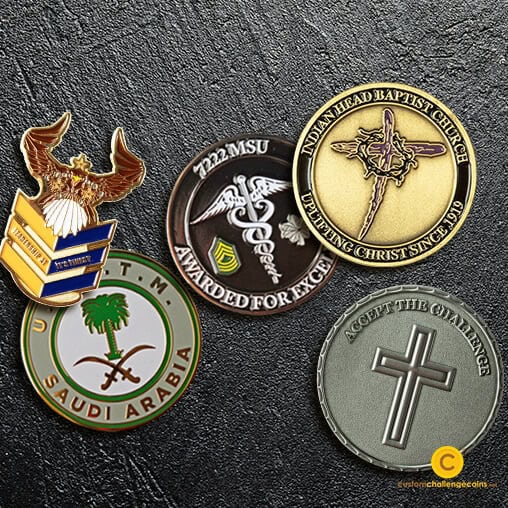 Challenge coins are usually circular. However, they can also be pentagons, spades, or even dog tags that can be worn around the neck.
Custom challenge coins are popular, and they often feature the artwork of a team's logo or emblem. Some other common additions are team mottos, significant locations, and the dates of special events.
Today, the most popular plating options are gold and nickel; however, various other metal finishes are available. These include copper, nickel, black nickel, and iridescent metal (otherwise known as rainbow anodized.)
Soft enamel paint may be added to recessed areas of the artwork by hand to create emblems and logos. While this is the traditional look of a challenge coin, there are many custom options available that look completely different.
Where Did the Tradition Come From?
Challenge coins were never officially approved, so the tradition behind the coins is often debated among military historians.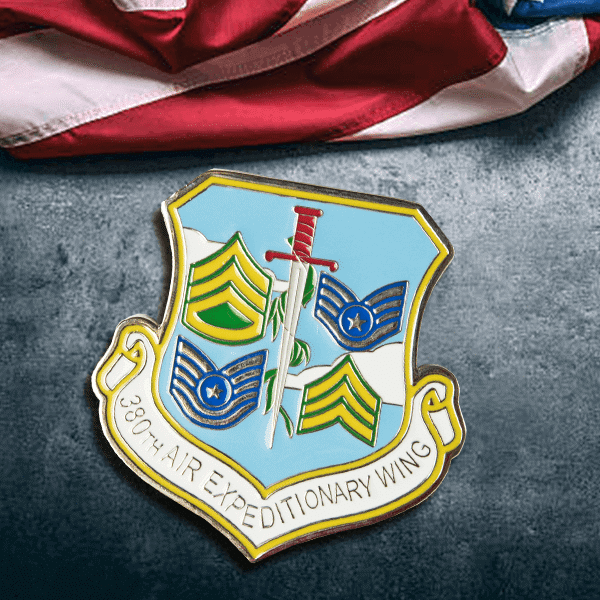 Many believe that a wealthy American lieutenant in World War I gifted a set of matching bronze coins to his unit members before they were deployed. One of the American fighter pilots was taken by Germans before escaping to a French outpost.
He was believed to be a German spy until he showed the challenge coin sitting around his neck. According to this narrative, the challenge coin saved his life. He was even given a bottle of French wine as a gift.
Other historians claim that the tradition of challenge coins first began in an infantry-run bar in Vietnam. Here, visitors were to show enemy bullets or their challenge coin upon entry.
Aligning with either narrative, challenge coins still earn service members their fair share of alcohol for their duties. Military members may tap their coins when they meet in a bar, claiming 'Coin, check!' Rumour has it that anyone who can't present their coin or is the last to show it has to buy the first round of beverages.
How Have Challenge Coins Evolved?
Challenge coins are used even in the highest ranks of the military. When Robert M. Gates, the then defense secretary, greeted and shook hands with the United States service members in Afghanistan in 2011, he presented challenge coins to each of them as a token of honor and gratitude.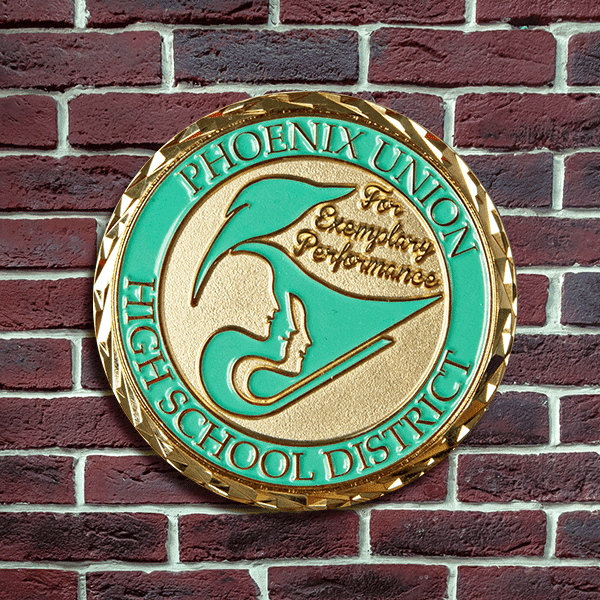 Likewise, every president since Bill Clinton has carried a challenge coin with a distinct design to show to foreign dignitaries and military personnel. President George W. Bush presented challenge coins to injured troops coming home from the middle east, and President Barack Obama often handed them to service members at the stairs of Air Force One.
But thanks to custom-design coin companies, challenge coins aren't just used in the military. Today, other government agencies and offices make use of challenge coins too. Secretaries of transportation and agriculture have created coins, along with senators and local fire departments.
Business is booming across various sectors, and there doesn't seem much sign of it stopping.
How Much Do Challenge Coins Cost?
Challenge coins cost around $5 to $12 each. As challenge coins are so affordable, many agencies spend thousands of dollars on the tokens annually.
In some government areas, leaders and chiefs are known to purchase coins for their team members out of their expense. In the military, some units have booster clubs that produce money for challenge coins.
Other commanders are given the go-ahead to buy challenge coins as 'morale boosters' with government funding.
Understanding the Challenge Coin Meaning
Now you understand the challenge coin meaning with more depth. When presented with a challenge coin – whether you're in the military or any other kind of organization – a challenge coin represents loyalty, camaraderie, and teamwork.
Discover what types of challenge coins there are out there and have a browse at our varied collection.